For celebrating 100 days run since the release with a digital poster, users of twitter trolling the makers of Jyothika's "Ponmagal Vanthaal". On 5th of September, the official twitter account of actor Suriya's "2D Entertainment" released a posted saying that their film "Ponmagal Vanthaal" completed 100 days run in Amazon Prime. Majority number of reactions received by the official tweet are trolls and memes. "Ponmagal Vanthaal" is the first ever major release in an OTT platform in the history of Tamil cinema.
Produced by Suriya under his 2D entertainment, the film "Ponmagal Vanthaal" contained ensemble cast including Parthiban, Bhagyaraj and Prathap Pothen along with the lead actress Jyothika. It was released on 29th of May month in Amazon Prime and garnered mixed reviews from the fans and critics.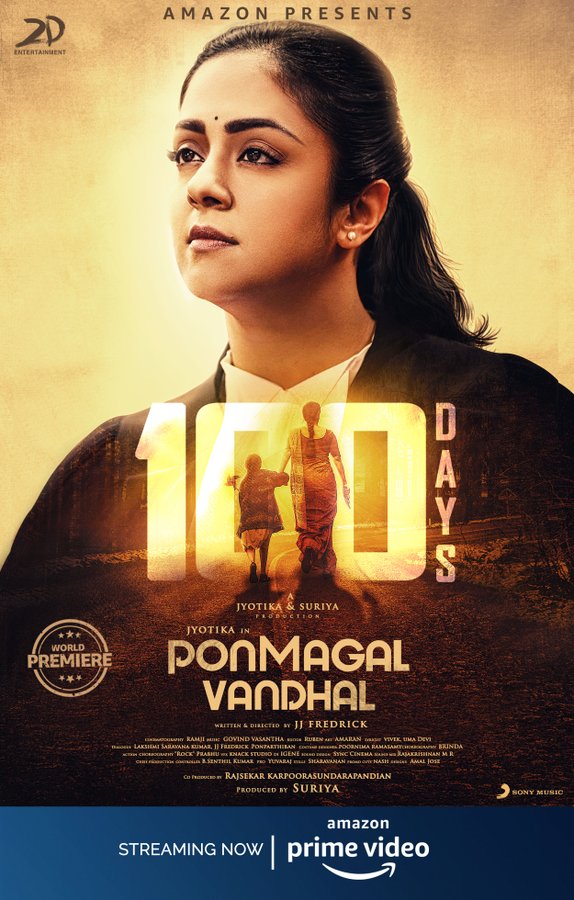 The film is based on a resident in Ooty named 'Petition' Pethuraj reopening a case from 2004 that involved a serial killer named 'Psycho Jyoti' who was convicted for the kidnapping and murder of multiple children. Venba (Played by Jyothika), Pethuraj's daughter and an amateur lawyer, seeks to revive the case amidst oppositions. The story revolves around why Venba chose the case and on the actual truth behind the crime.
The film released after several controversies and confrontations from the owners of Tamil nadu theatres. Reports suggested that the film which was made of Rs. 5 crore budget was bought by Amazon for Rs. 9 crores. Now, one the 100 the day since the release of the film, the makers have made a publicity design and released it to celebrate the special event.
"It's been 100 days since we introduced you to our angel & the love just keeps growing! Thank you for making #PonmagalVandhal a huge success!" read the caption of their post.
Here;s the post :
It's been 100 days since we introduced you to our angel & the love just keeps growing! Thank you for making #PonmagalVandhal a huge success! #PonmagalVandhalOnPrime https://t.co/mjrcJ3lWBn#Jyotika @Suriya_offl @fredrickjj @rparthiepan @ppothen @actorthiagaraja @rajsekarpandian pic.twitter.com/Pak7IITSk4

— 2D Entertainment (@2D_ENTPVTLTD) September 5, 2020
On seeing this post, many fans who watched the film, started trolling it for celebrating the event as if it got released in theatres. "It seems, you guys would celebrate 1000th day" said one of a twitter user whereas another one said that he is expecting 150th day poster.
Check out some of their reactions below :
Ulagathulaye OTT la vandha padathukku 100 days celebrate panra ore karakaatta goshti, adhu namma goshti dhaan. https://t.co/3ZNgpDVd0X

— புஞ்சை குமாரசாமி (@Ajumplakdibampa) September 5, 2020
Un padam na un istathuku olu viduviya🤣😂 pic.twitter.com/54Un6qSNNd

— 😎Enemy_Of_Dhanush😈Haters (@enemyofdhaters) September 6, 2020
September 6, 2020
Vitta 1000 days kuda poduvenga polaye

— 𝙑𝙄𝙍𝙐𝙎 | சுருளி🔥 (@virusoffl) September 6, 2020
Yenda mokka to the core . Acting story screenplay ellam mokka.Ethukku 100 days poster🤐

— Prasan0129 (@Prasan0129) September 6, 2020
🤣🤣🤣🤣🤣 yenda ungala nengale kalaikiringa

— sarath sarath (@sarathananth244) September 6, 2020
ROFL, expecting next 150 days poster😂🙏

— Anish (@Anish4Love) September 7, 2020
Suriya has also decided to release his upcoming film "Soorarai Pottru" in Amazon Prime. The film is going to be released in the online platform from 30th of October. Comment your views on these reactions for the 100 days posted of "Ponmagal Vanthal" !!