Virat Kohli hogged the limelight for all the wrong reasons after the thrilling game between Royal Challengers Bangalore and Kings XI Punjab came to an end on Wednesday. Emotions ran high throughout the game as both the captains – Kohli and Ravichandran Ashwin – led the show in charged up manners. Both the captains looked animated throughout but it was Kohli who had the last laugh although he faced criticism for the very same reason.
M42: RCB vs KXIP – Ravichandran Ashwin Wicket https://t.co/7oV9lO9udQ

— PRINCE SINGH (@PRINCE3758458) April 25, 2019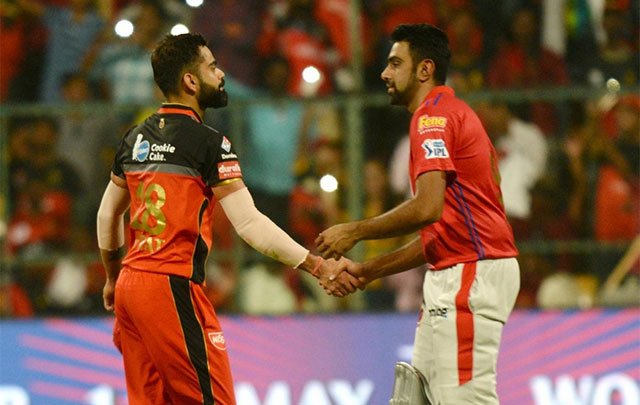 It all happened in the very final over of the game when Kings XI Punjab needed an improbable 27 runs off the final over with Ravichandran Ashwin up against Umesh Yadav. Ashwin started the over on a fine note by hitting a six. He went for the maximum on the following delivery too but ended up miscuing it to Kohli at long-on and it led to some wild scenes. A charged-up Kohli did not refrain from giving Ashwin an animated send-off while also hurling some choicest of abuses.
Kohli vs Ashwin

Ashwin threw his gloves in anger pic.twitter.com/xGrBuoZlIm

— muhammad Noman (@muhamma62025313) April 25, 2019
Now after many days Kings 11 Punjab twitter handle came up with a reply to this gesture of Virat Kohli. In their tweet they said "Virat Kohli's gesture after taking our skipper Ashwin's catch has earned himself a Kuch Bhi (anything) Award from us". They also added an article which gace parody awards to the players.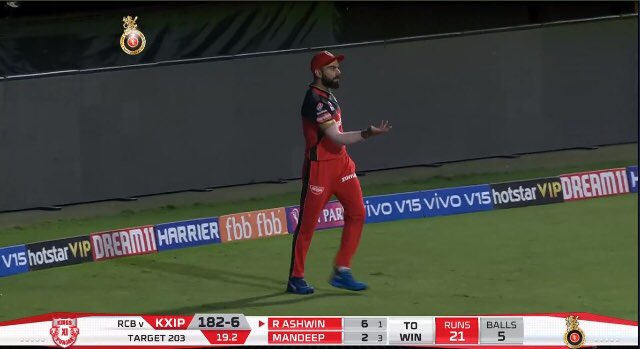 Check out the post here :
Virat Kohli's gesture after taking our skipper Ashwin's catch has earned himself a Kuch Bhi Award from us. Find out which one: https://t.co/eFDfg3kD2f

📸 – Hotstar #SaddaPunjab pic.twitter.com/zJ0zCwiO9c

— Kings XI Punjab (@lionsdenkxip) April 28, 2019
Meanwhile followers trolled this post by assuming Ashwin tweeting this from the Punjab account. They also asked him to use his own account :
Ashwin use your own account

— i love you 3000 (@lashika_x) April 28, 2019
Hii @ashwinravi99 tweet from your handle🤣

— 〰️ (@Wolverine_ll) April 28, 2019
Ashwin: pic.twitter.com/4elm6QoyAT

— Doctor strange (@h4riuu) April 28, 2019
@ashwinravi99 are you Happy with this tweet ?

— Arjun Sundara Rajan (@arjunvk18) April 28, 2019
after his already mankaded odi career ..i guess he wants his test career to get stumped out !!!

— rajarshi chatterjee (@rajarsh62289104) April 28, 2019
Give ur captain Mankad award..

— Chowkidar Siddharth Shah (@imsidshah_18) April 28, 2019
Talk about your SO CALLED SKIPPER's reaction after getting out 😌

— ❤️ AB MY BABY ❤️ (@sann1216) April 28, 2019
Meanwhile some of them criticized Kohli for his aggressive behaviour as well :
He is a good batsman but he will never be like Sachin n Dravid.

— PM (@IamKiran12) April 28, 2019
Virat is one of the most ill manared cricketer in the world

— yuvi (@dhillon6206) April 28, 2019
Kohli deserved to lose matches for his adamant and arrogant behavior.

— Prashant Kumar (@acerprash) April 29, 2019
Royal Challengers Bangalore's twitter handle shared the post and captioned it as "Kuch bhi" (anything) as well :
Kuch bhi https://t.co/60obCYFP0e

— Royal Challengers (@RCBTweets) April 28, 2019
What do you think on this hilarious reactions ?? Comment your views below !!