Political party named "Pattali Makkal Katchi" led by S. Ramadoss has been giving trouble to actor Suriya over his recently released "Jai Bhim". After Anbumani Ramadoss shot 9 questions at Suriya, Vanniyar Sangam issued a legal notice to the actor and other personalities who are associated with the project, seeking an unconditional apology and removal of certain scenes that allegedly defame the Vanniyar community.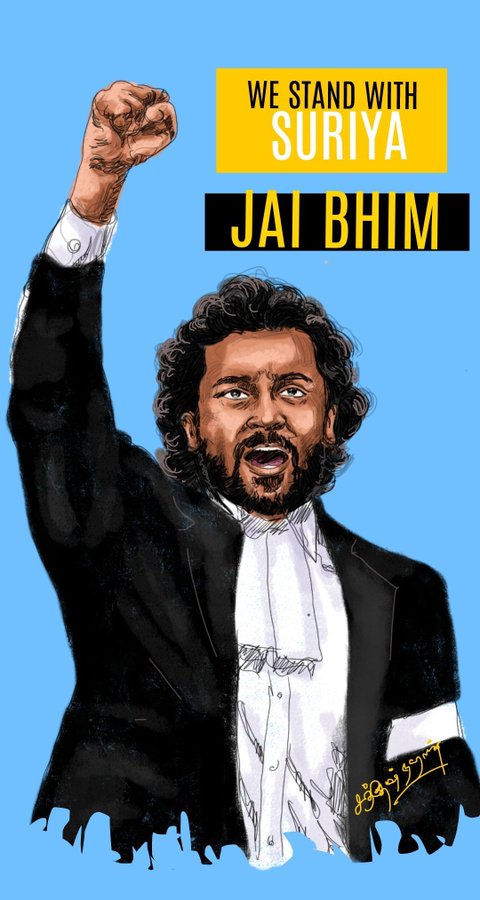 Advocate Balu, leader of Pattali Makkal Katchi's legal wing had sent a legal notice mentionaing that Thu Pa Arul Mozhi considers certain scenes in "Jai Bhim' were conceptualized to defame the Vanniyar community. The notice also demanded the film crew to pay Rs. 5 crore within seven days from the time and date of receipt of the notice.
Report on a PMK cadre barging into a theatre and stopping the film's screening at Mayiladuthari surfaced. Video of a Nagapattinam district secretary of Pattali Makkal Katchi (PMK), Sithamalli Pazhani Saamy, announcing Rs. 1 Lakh cash for anyone who kicks Suriya has created huge outrage among the Internet users. When PMK leader Anbumani Ramadoss released a press note questioning Suriya 9 questions about "Jai Bhim", Suriya replied back requesting the "PMK" leader not to restrict a film like "Jai Bhim" into "name" politics.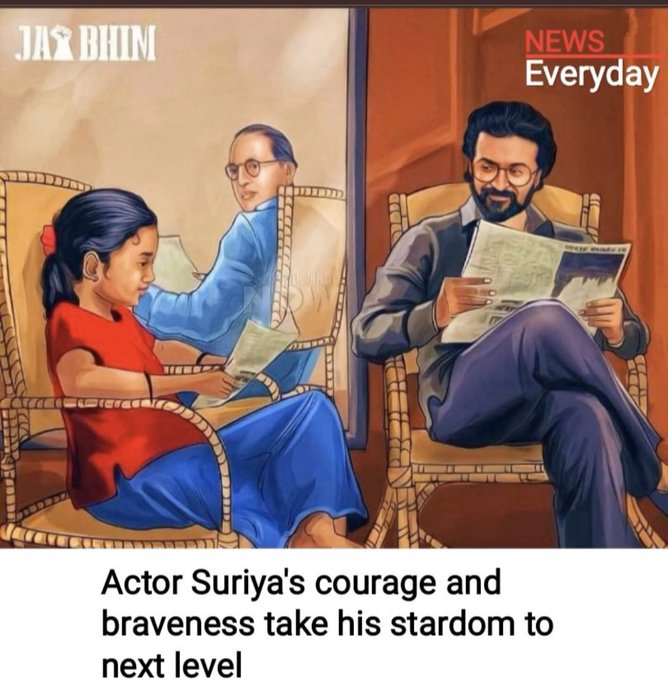 Now, on seeing the struggles being faced by Suriya for making a film, a number of celebrities came up with tweets supporting the actor with the hashtag "We Stand With Suriya". Pa. Ranjith became the first celebrity to tweet supporting the actor/producer. Prolific filmmaker Venkat Prabhu uploaded a tweet saying "Stand for what is right even if it means standing alone"
Check out the tweets below :
#jaibhim #weStandwithSurya pic.twitter.com/n70PuWmLyN

— pa.ranjith (@beemji) November 15, 2021
Stand for what is right even if it means standing alone#WeStandWithSuriya #JaiBhim 💪 pic.twitter.com/FDCe60sOiy

— venkat prabhu (@vp_offl) November 15, 2021
#WeStandWithSuriya pic.twitter.com/yTCw5GnUWz

— Chimbu Deven (@chimbu_deven) November 15, 2021
#WeStandWithSuriya @Suriya_offl 💪💪💪#JaiBhim pic.twitter.com/gFmucwpgIQ

— Prakash Raj (@prakashraaj) November 15, 2021
Not sure of the value of I-stand-with hashtags in social media but yes I absolutely do #StandwithSurya . A top-tier star doing a film like #JaiBheem mainstreams the conversation on caste -atrocities. It was no small risk. This is a watershed moment for us, thank you @Suriya_offl

— CS Amudhan (@csamudhan) November 15, 2021
#WeStandWithSuriya trending on top 2 with 262k Tweets 😎🔥
Going Strong 💪 #JaiBhim 💙✊🏿 pic.twitter.com/5KFXMpTkFx

— Kaajal Pasupathi (@kaajalActress) November 16, 2021
Dear @Suriya_offl and TJ Gnanavel, if they're coming after you, it means you and the team of #Jaibhim have done something right. Don't bow down to all this intimidation. Stand tall. Stand strong. #WeStandWithSuriya pic.twitter.com/Yfgr1ljJMd

— Korah Abraham (@thekorahabraham) November 15, 2021
#WeStandWithSuriya I had never heard of @Suriya_offl until I saw #JaiBheem but now I am a fan. Jai Bhim is Love. Jai Bhim is Light. We need many many more real life stories like this to turn #India into what she has the potential to be; Inclusive, Just, egalitarian, equitable.

— Mona Ambegaonkar (@MonaAmbegaonkar) November 15, 2021
ஞாயம் வேணுமா

~ஆமா. 5 கோடி வேணும்

இல்ல புரியல pic.twitter.com/eQ3NSxAvun

— Vivek (@Lyricist_Vivek) November 15, 2021
We support Social Justice, We support Humanism, We are against Casteism, We support Inclusiveness, We support holistic Development of this Society. We support Truth And so#WeStandWithSuriya @Suriya_offl pic.twitter.com/7AoVzMjB4J

— Tribal Army (@TribalArmy) November 14, 2021
#WeStandWithSuriya
The actor gave one crore for education of irular children and in his letter to comrade k Balakrishnan has talked about exploring ways to help the education of kuravar children.
அவரு கிட்ட தான் 5 கோடி நஷ்ட ஈடு கேட்டிருக்காங்க 🤦🏾🤦🏾

— Kavitha Muralidharan (@kavithamurali) November 15, 2021
#WeStandWithSuriya – Always with annan !

Not for the actor he is. But for the human he has become !! pic.twitter.com/FTL2KK9svV

— Prashanth Rangaswamy (@itisprashanth) November 15, 2021