"Kaithi" film released along with highly anticipated "Bigil" and running successfully despite of the star value of the Vijay starrer. Having no heroine, songs or flashback, "Kaithi" film is impressing the audience for its strong and intense plot. Karthi who already chose to do performances oriented films such as "Aayirathil Oruvan", "Paruthi Veeran", "Theeran Athigaram Ondru", excelled in "Kaithi" in his own way.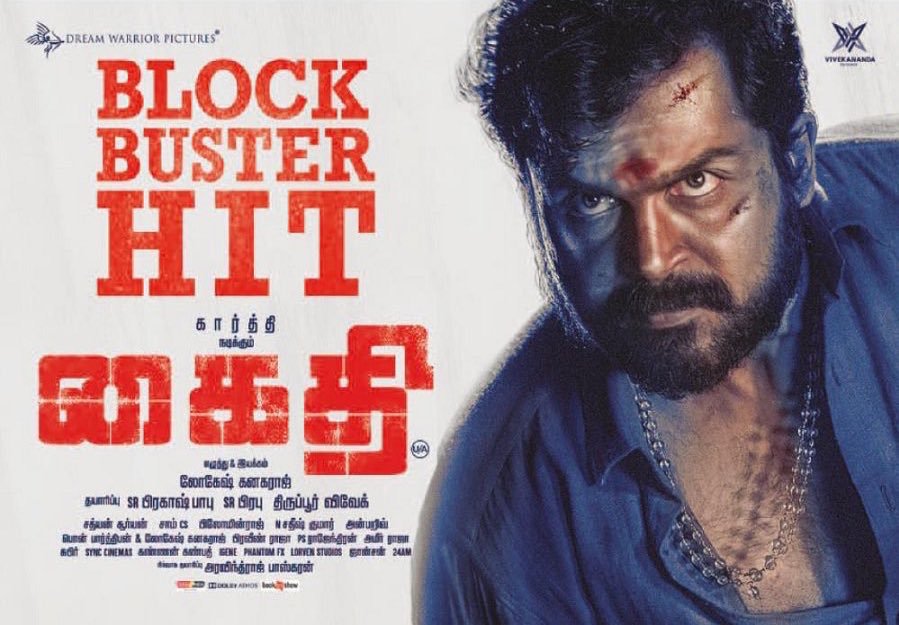 Kaithi revolves around a story of a released prisoner who spent 10 years of Jail sentence. On his way to meet his daughter for the first time, the protagonist was forced to help a senior police officer from deadly drug lords. The film is running successfully in theatres and marching towards 100 crores of collection in box office.
However both the film which were released during Diwali was expected to be screened in less theatres after the release of Vijay Sethupathi's Sanga Tamizhan and Vishal's Action. A popular movie tracker confirmed it in his official twitter account by writing "The #Deepavali dream run is over at the box-office as footfalls drop across TN."
Check out his tweet below :
The #Deepavali dream run is over at the box-office as footfalls drop across TN.

— Sreedhar Pillai (@sri50) November 17, 2019
But the producer of Karthi-starrer Kaithi proved it false through his tweet. S.R Prabhu, producer of critically acclaimed films such as "Aruvi", "Joker" produced "Kaithi" as well. Since the announcement of the release date of "Kaithi", Prabhu is very much active in social media platforms only to give befitting replies to trollers. "Enna Mairukku Comment Panra" – "Kaithi" Producer S.R Prabhu Asked A Vijay Fan !! On seeing this tweet from the movie tracker, S.R Prabhu proved him wrong by revealing the fact.
In his tweet Prabhu wrote "No sir! #Kaithi is still doing good in about 200 screens😎🧨💥". Here's the tweet he posted :
No sir! #Kaithi is still doing good in about 200 screens😎🧨💥 https://t.co/CYtThGsrXG

— S.R.Prabhu (@prabhu_sr) November 17, 2019
This tweet grabbed the attention of the many twitter users who started lauding the producer for exposing such false news which are being spread in social media platforms. Unlike other producers who would keep mum on such rumours, S.R Prabhu's appropriate reply loved by the social media users. Check out some of their reactions below :
@prabhu_sr Mass entry 🔥 pic.twitter.com/vPDLZGyr5W

— அணில்🐿 வேட்டையன்👹 (@Anilvettai123) November 17, 2019
@sri50 uncle 😂😂
Don't post anything rubbish here after 😂
Since ur favorite actor's movie is not doing good, it doesn't apply for all the movies
Perfect slipper shot @prabhu_sr anna 😂

— Տհɑɾɑղ Aκ7 Տƒϲ ˢᵒᵒʳᵃʳᵃⁱ ᵖᵒᵗᵗʳᵘ (@The_Kingmaker7) November 17, 2019
இது மாதிரி producer officialஅ சொல்லிட்டா இந்த மாதிரி சொம்புகளுக்கு வேலையே இருக்காது 200,300 கோடிகளுக்கு ooo லுகளும் இருக்காது

— SENTHAMIZHAN AV (@SenthamizhanAv) November 17, 2019
Ela producers uhm idhe madhri serupadi kudutha indha trackers gang thaana adangiruvanga

— Kaushik Hariharan (@kaushik1nair) November 17, 2019
The upcoming projects of S.R Prabhu's Dream Warrior pictures are Sibi Raj's Vattan and Karthi's Sulthan directed by Remo fame Bhakyaraj Kannan. What do you think on this reply from Prabhu ?? Comment your views below !!