"Kaithi" and "Bigil" are two of the films which are going to be competed for this Diwali festival. Kaithi having Karthi in the lead and was directed by "Maanagaram" fame Lokesh Kanagaraj who is going to direct "Bigil" Vijay's next film. Both the movie's respective production houses announced the release date on the same day and announced it as same date date as well.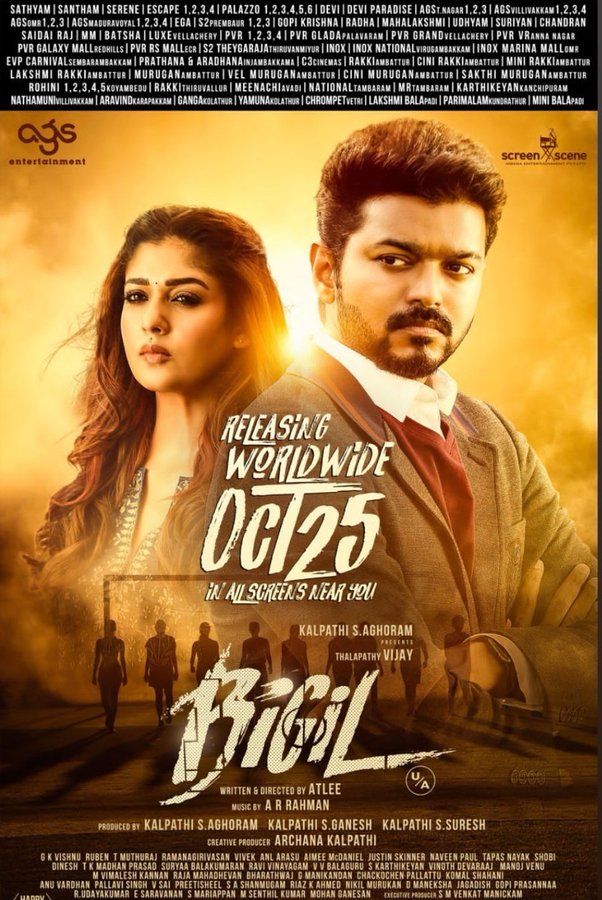 Twitter war arouse between fans as both the movies are fighting to get more number of screens across Tamilnadu. Promotional activities from both the movies were also started and it is in full swing. Meanwhile, a promotional post of Kaithi's producer S.R Prabhu offended the fans of actor Vijay.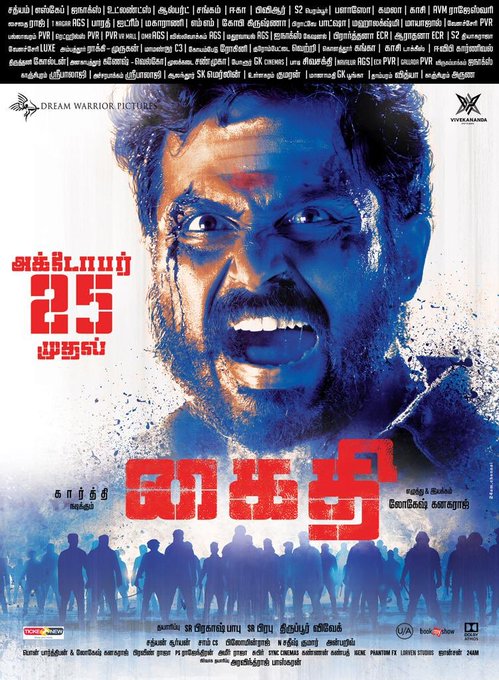 The post says that the film "Kaithi" has no songs or heroine or romance or even a dupe for the actors. "No time for caution! It's a power packed action thriller." caption of the post read.
Check out the post below :
No time for caution! It's a power packed action thriller.#Kaithi #KaithiReleasing25thOct#KaithiDiwali pic.twitter.com/bsuwdPdMNY

— DreamWarriorPictures (@DreamWarriorpic) October 19, 2019
This created huge hatred among the fans of actor Vijay as they felt that this post is somehow trolling the "Bigil" movie. They started fuming at the rpoducer for creating such post. Check out few of their reactions :
கைய குடுங்க மாம்ஸ் @prabhu_sr கொஞ்சம் பேரு பிகில் பாத்துட்டு அடுத்த ஷோ கைதி போவோம்னு சொன்ன அத்தன பேரும் ஒரே டீவீட்ல திருப்பி விட்டீங்க.. 🙏 #BIGILStormFromOct25

— Vishnu (@Vishnu0294) October 20, 2019
200 ஸ்கிரீன்ல ரிலீஸ் பண்ற உனக்கே இவளோ அதப்பு இருக்குனா…
நம்பர் ஒன் பாக்ஸ் ஆபீஸ்!
நம்பர் ஒன் ஃபேன் பேஸ்!
4000+ ஸ்கிரீன்ல ரிலீஸ் பண்ற எங்களுக்கு எவ்ளோ அதப்புடா இருக்கும் மரண அடி அடிகிறோம்😎🔥#BIGIL #BigilDiwali #BIGILStormFromOct25@prabhu_sr

— Raghul ᴮⁱᵍⁱˡ (@raghulrohit07) October 20, 2019
கைதி படத்துக்கு போகலாம் என்னு நினைச்சன் ஆனா இதப்போட்ட பாரு பு*** தியேட்டர் பக்கம் கூட எட்டிப்பார்க்க மாட்டன்.

உங்கண்ட இந்த திமிரால படம் பெரிய நஷ்டம் தான் அடையப்போகுது..

ஆனா தளபதி ரசிகர்கள் அப்பிடி இல்ல எதிரிய கூட வாழ வைப்பம் All The best Kaithi Team

— தளபதி என் உயிர்🔥 (@LajeeThalapathy) October 20, 2019
However, Producer S.R Prabhu has expressed his opinion on the hatred he receives while replying to one of a Vijay Fan. He said that he wants all the film to do well in the box office and doesn't care for the people in social media who abuses him for no proper reason.
Check out his tweets below :
That's a stupidest thought many fans buy it. I can't explain each one of them! We make films and we stand by it! That's all 😎✌🏼

— S.R.Prabhu (@prabhu_sr) October 18, 2019
Fans find their own troll materials to fight! We can't help. I want all films to do well in the box office. But I don't give a fuck to the faceless people comes up with their stupid attitude thinking they can make a change with abusive posts!! 😎✌🏼

— S.R.Prabhu (@prabhu_sr) October 20, 2019
The ticket bookings from fans for both the films are in full swing. "Kaithi" which looks like a crime drama has Karthi as a prisoner. On the other hand, "Bigil" has actor Vijay in three different getups.
What do you think on the reply of S.R Prabhu ? Comment your views below !!