Actor turned politician Kamal Haasan opened about his Bigg Boss salary for the first time in a public event. While campaigning for his party and its candidates, Kamal, to make sure that he won't earn money through politics, said that he will continue acting to spend the money for the people of Tamil nadu. Replying to Vanathi Srinivasan of BJP who is competing against him in the Coimbatore South constituency, Kamal Haasan said that acting is an honest job and opened about how hefty he is earning through Bigg Boss show.
Kamal Haasan has been hosting the show for the past four seasons. Recently, a buzz emerged saying that Simbu is going to replace him due to the "Virumaandi" actor's hectic schedule in political and cinematic career in the coming days. In a way of clearing the air, Kamal Haasan cherished his participation in the reality game show and added that he will continue acting in films to ear in order to spend the money for his political purpose.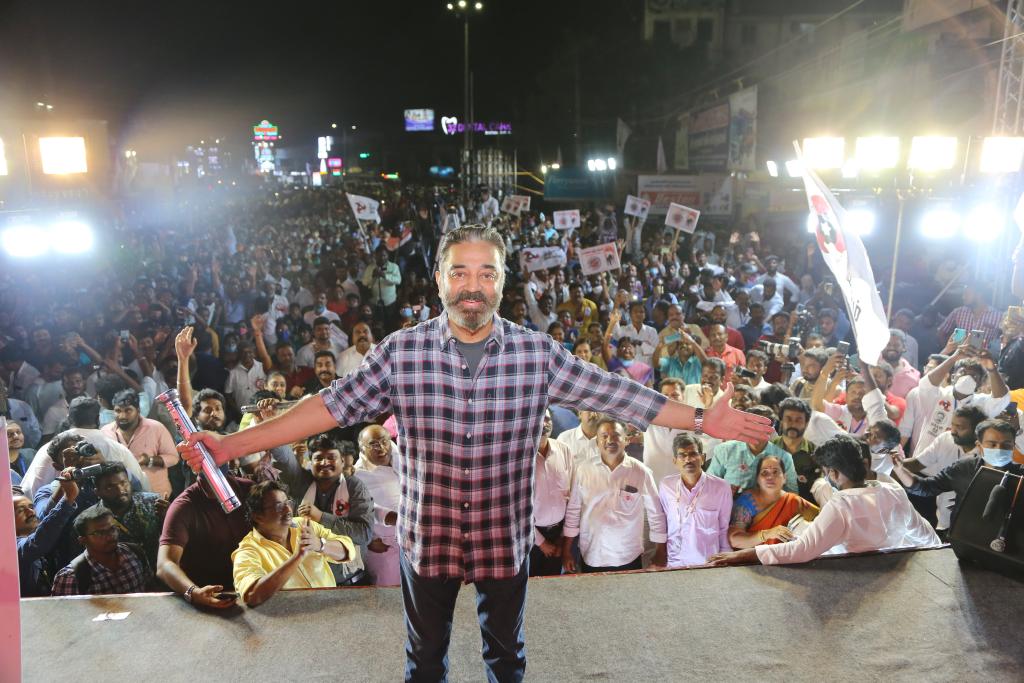 Throughout his speech, Kamal slammed the ruling party and the party of opposition and accused them of involving in corruption. He said that both the parties would not execute the manifesto they had provided and stated that they have saved enough money for their future generations.
"They saved enough money for their forthcoming generations. They would be having huge sum of money even when their grandsons becomes great grand fathers. But I couldn't live that way as I have to earn. For the money I am spending, I have to go out and work again to earn money" said Kamal and recalled Vanathi Srininvasan's statement.
"Vanathi Amma says that I would leave politics to act in movies. Yes, I would continue acting and not ashamed of it as it is an honest occupation. Politics is not my occupation. I would act to invest the money in my politics." Kamal Haasan said and opened about his slary in Bigg Boss.
"How do you think I am bravely disclosing about signing a cheque that worth Rs. 6 crore ?? I have been earning through Bigg Boss show. It is a lot of money and I have been receiving it in a honest way. No other celebrity would be offered such money for hosting the show. I am not saying it to boast about it but to tell about my requirements" he said and added that he is working to spend the money for the public.
Watch the video of his speech below :
"However, it is not enough. That's why I am asking you people to elect me. I will be having your money but won't touch it. I don't have to promise it to you people as my past life is itself a prime example." he further said. As we all know, Kamal Haasan has been hosting the 100 days reality show for past four seasons. His role in show is to act as a representative of the audience. He who appears every week, would converse with the celebrity contestants to analyse their activities. He also used the platform to campaign for his party by indirectly slamming the political parties of Tamil nadu with his connotations and one liners.