In an unexpected turn of events, ace actor and founder of "Makkal Needhi Maiam" party Kamal Haasan was defeated in the constituency he contested. It was BJP's Vanathi Srinivasan who garnered 1500 votes more than him at the end of counting of the votes polled in the recently held Tamil nadu assembly election. Kamal was in leading till 6 PM of the counting day and the result was announced as Vanathi as the winner at 9 PM.
தோல்வியடைந்தவுடன் கோவை வாக்கு எண்ணும் மையத்தில் இருந்து விரக்தியுடன் வெளியேறும் கமல்ஹாசன்.#KamalHaasan | #KovaiTherku | #MakkalTheerpu | #TNElections2021WithVikatan pic.twitter.com/iTs1Lj28yW

— விகடன் (@vikatan) May 2, 2021
Party Makkal Needhi Maiam was founded on February 2018 by the veteran actor, vowing to veer the state away from the ways of the two key mainstream outfits. Kamal Haasan was expected to win the election with a large margin and his defeat came in as a shock to his fans, followers and supporters. During the end of counting, many people including celebrities expressed their wish of Kamal Haasan winning the election in social media.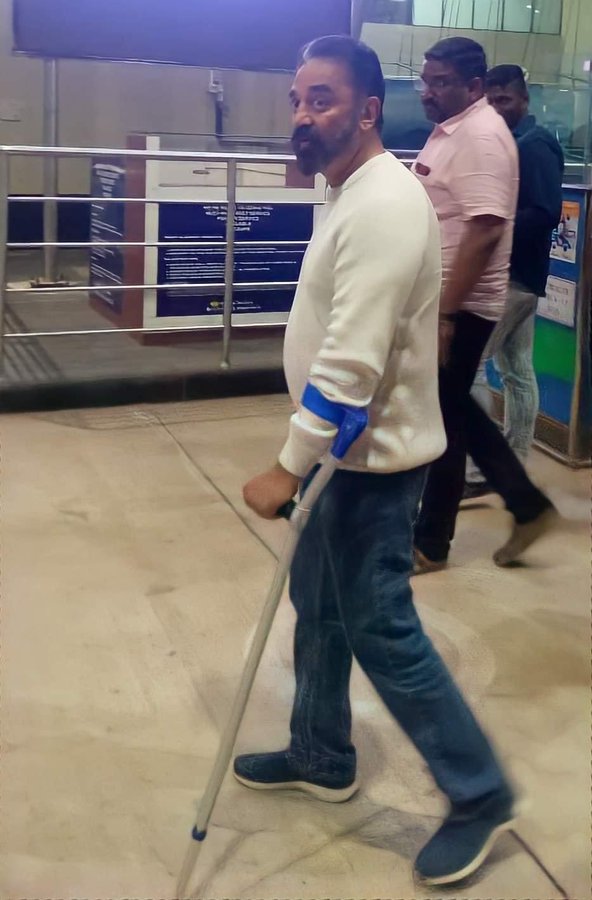 After facing the loss, Kamal Haasan who doesn't demand a recounting, uploaded a tweet in his official twitter account wishing the newly elected Chief minister M.K Stalin. "Hearty wishes to M.K Stalin for his immense victory. You are going to get the power at a critical situation. I wish you to work in a better way for the growth of the state" Kamal said in his tweet by writing "பெருவெற்றி பெற்றுள்ள
@mkstalin அவர்களுக்கு மனப்பூர்வமான பாராட்டுக்கள். நெருக்கடியான காலகட்டத்தில் தமிழகத்தின் முதல்வராகப் பொறுப்பேற்கிறீர்கள். சிறப்பாக செயல்பட்டு தமிழகத்தை வளர்ச்சிப் பாதையில் அழைத்துச் செல்ல என் வாழ்த்துக்கள்."
பெருவெற்றி பெற்றுள்ள @mkstalin அவர்களுக்கு மனப்பூர்வமான பாராட்டுக்கள். நெருக்கடியான காலகட்டத்தில் தமிழகத்தின் முதல்வராகப் பொறுப்பேற்கிறீர்கள். சிறப்பாக செயல்பட்டு தமிழகத்தை வளர்ச்சிப் பாதையில் அழைத்துச் செல்ல என் வாழ்த்துக்கள்.

— Kamal Haasan (@ikamalhaasan) May 2, 2021
Regarding his defeat, Kamal said that he is accepting the result provided by the people. "Hearty thanks to the people who voted for me, MNM party workers and the members of our alliance parties. "Will align Tamil nadu in a better way" is not a slogan we used for just one election. It is a dream of Makkal Needhi Maiam. We will continue to stand on the field to save our land, language and people" he added in his tweet.
'சீரமைப்போம் தமிழகத்தை' என்பது ஒரு தேர்தலுக்கான கோஷம் அல்ல. அது மக்கள் நீதி மய்யத்தின் கனவு. மண், மொழி, மக்கள் காக்க தொடர்ந்து களத்தில் நிற்போம். (2/2)

— Kamal Haasan (@ikamalhaasan) May 2, 2021
Responding to the wish of Kamal Haasan, MK Stalin replied posting a "Thanks" tweet. "In this huge process of saving people from a pandemic situation, support and suggestions of people like you will help the newly formed government" Stalin said in his reply tweet.
அன்பு நண்பரும் மக்கள் நீதி மய்யத்தின் தலைவருமான @ikamalhaasan அவர்களின் வாழ்த்துகளுக்கு நெஞ்சார்ந்த நன்றி!

பேரிடரிலிருந்து மக்களைக் காக்க வேண்டிய பெரும் பணியில் தங்களைப் போன்றவர்களின் ஆதரவும் ஆலோசனைகளும் புதிய அரசு மேற்கொள்ளும் மக்கள் நலப் பணிக்குத் துணையாகட்டும். https://t.co/Wl7rC9Oxjn

— M.K.Stalin (@mkstalin) May 2, 2021