Players of team Australia celebrated the T20 world Cup victory in a wildest way possible and the videos of the same are going viral in the social media platforms. Sounds were on and the legs of the players and support staff were constantly moving for the music which could be seen on the videos uploaded by ICC in its official social media handles. Now, on seeing players of the yellow team drinking beer by pouring it in their shoes, former Pakistani star pacer Shaoib Akthar termed it as "disgusting". In return, he got brutally trolled by the users of internet who watch cricket.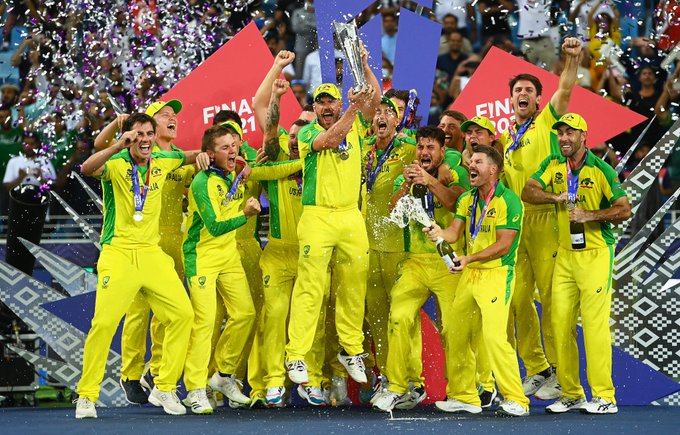 In the finals, after winning the toss, Australia asked New Zealand to bat. With the help of Kane Williamson's 48 ball 85, the Black caps scored 172 runs in the 20 overs. Chasing the challenging total, Warner scored a brilliant half century and Mitchell Marsh score 77 runs with a strike rate of 154. Maxwell came in as two down and smashed 4 boundaries and one maximum which made the chase pretty comfortable.
David Warner got honoured with the man of the tournament award as he scored 289 runs in the 8 matches he played in the world Cup t20 tournament. Videos of the team celebrating their first t20 world cup victory were doing rounds in the online platforms. Out of excitement, the team which wasn't considered as favourites to win the world Cup as they faced 5 consecutive series losses before the tournament, players of team orchestrated wildest cricket celebrations ever.
At one point, semi-finals star Matthew Wade poured the drinks in his shoe and drank it to celebrate. All rounder Marcus Stoinis also did the same before posing for a group photo. Watch the video below:
How's your Monday going? 😅#T20WorldCup pic.twitter.com/Fdaf0rxUiV

— ICC (@ICC) November 15, 2021
On seeing the celebration, former Pakistan star speedster Shoib Akthar came up with a tweet saying that the celebration looks "disgusting". "A little disgusting way of celebrating no??" he wrote in his tweet.
Here's his tweet :
A little disgusting way of celebrating no?? pic.twitter.com/H96vMlabC8

— Shoaib Akhtar (@shoaib100mph) November 15, 2021
In return, the former cricketer got trolled by the online users. With a follower pointing out that it is a traditional celebration named "shoey" followed in Australia, many trolled him. Check out some of the reactions for Akthar's tweet below :
Win the trophy brother then you can decide how to celebrate https://t.co/1LDFs4C4P8

— Tom Carpenter (@Carpo34) November 15, 2021
This is the way of celebrating? 😭 pic.twitter.com/dPJTWu7ym6

— Ritesh (@Samba9Firmino) November 15, 2021
Let's respect different cultures, no? 🙂 pic.twitter.com/bVFEcqmafi

— Cubbi_Bear (@CubbiBear2) November 15, 2021
Still way better then firing on players. By the way, it's a culture followed after crop harvesting. @shoaib100mph https://t.co/vut3GAU3oz

— Ram Prakash Pandey (@RamPrak27037856) November 16, 2021
at least they have something to celebrate https://t.co/FMuuJLizkg

— praddy (@whyispraddy) November 15, 2021
Still better than no celebration https://t.co/WL4B85Acyz

— Middle Class Indian (@MiddleClassInd8) November 15, 2021
Never disrespect a shoey again pal https://t.co/z0ljpcti93

— Jed (@SFCJed23) November 15, 2021
Shoey on the world stage always gets funny reactions 🤣 https://t.co/NgxNGutuQC

— Amanda (@AmandaMSchutt) November 15, 2021
You've travelled the world.. Maybe sensitise urself to other cultures too!
P.S. its called a shoey! https://t.co/Bx7prlAswT

— Tanya ☆ (@inpurplegold) November 15, 2021