On Friday, Prime minister Narendra Modi announced that the three controversial farm laws at the heart of massive farmer protests across the country for over a year will be withdrawn with Uttar Pradesh and Punjab elections are just three months away. The announcement was made on the special occasion of Guru Purab festival, when Sikhism founder Gurunanak's birthday is celebrated across the country.
While addressing to the nation, The Prime minister said "Maybe something was lacking in our tapasya (efforts), which is why we could not convince some farmers about the laws. But today is Prakash Parv, not the time to blame anyone. Today, I want to tell the country that we have decided to repeal the three farm laws," and went on to add "In the Parliament session starting in the end of this month, we will complete the process of repealing the three laws,"
Initially, Modi defended the laws saying that it only meant as reforms, mainly for small and marginal farmers in the country. "Whatever I did was for farmers. What I am doing is for the country."Modi said. It is very well know that thousands of farmers from Punjab, Haryana, Uttar Pradesh and Rajasthan have been camping outside Delhi since November 2020. They termed the farm laws as "black" law and demanded the government to withdraw it.
The BJP party has faced severe anger from the northern states which they cannot afford due to the upcoming elections, including the 2024 national polls. Now, as soon as the announcement were made, people from across the country expressed their happiness. Few even criticized Modi saying that he cancelled the laws due to the upcoming election. Celebrities and politicians who belong to state Tamil nadu, has also expressed their opinions about the PM's announcement. However, a large amount of reactions pouring in Internet criticizing Modi for making such announcement just to win the upcoming elections.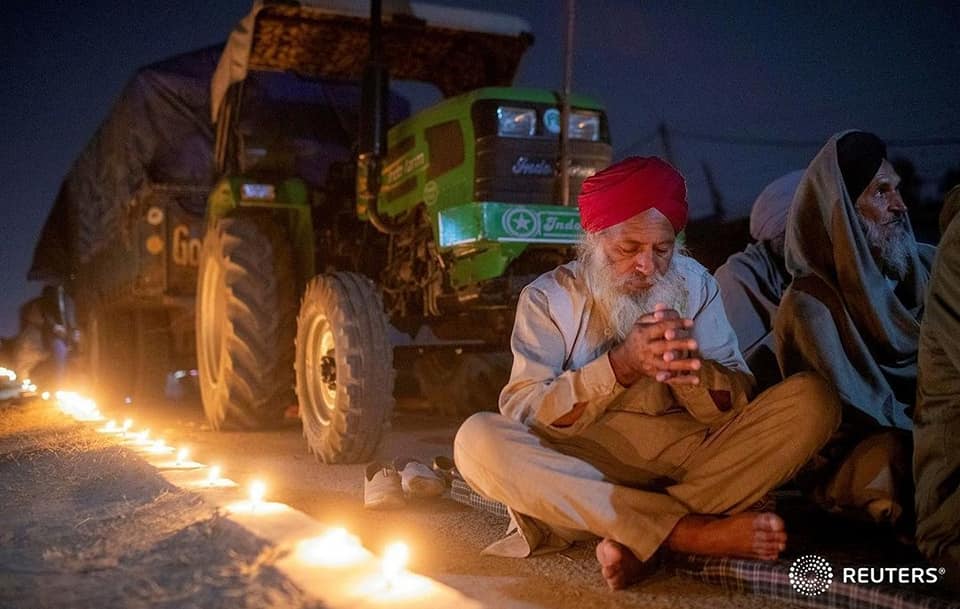 "pls don't say #Farmlaws repeal was done in National interest. That means passing them was not in National interest. Isn't that a huge self goal?Best is to spin it as Govt listening to voice of people, showing flexibility even with a majority, compassionate Govt etc" political analyst Sumanth raman said whereas journalist Sonia came up with a tweet writing "The announcement was not made when the farmers protested for 11 long months or when 700 people died. Now, as election is approaching" to criticize Modi.
Check out some of such reactions below :
11 மாதங்கள் விவசாயிகள் போராடினப்பலாம் பண்ணாம, 700 பேர் இறந்து, இப்ப எலக்‌ஷன் வரவும் 🙄🤦🏼‍♀️ #FarmLawRepealed

— Sonia Arunkumar (@rajakumaari) November 19, 2021
Never forget. This is how the Modi government attacked our Indian Kisan pic.twitter.com/7aXbajnmEv

— Swati Chaturvedi (@bainjal) November 19, 2021
Anchors, pls don't say #Farmlaws repeal was done in National interest. That means passing them was not in National interest. Isn't that a huge self goal?Best is to spin it as Govt listening to voice of people, showing flexibility even with a majority,compassionate Govt etc. 😃

— Sumanth Raman (@sumanthraman) November 19, 2021
This is election time strategy, masterstroke or whatever. That's true. But that was forced upon only and only due to relentless protests by farmers. Let's not forget that.

— Dhanya Rajendran (@dhanyarajendran) November 19, 2021
Farmers braved freezing cold, rains for months. 100s of them died, some were murdered. Access to toilets, water was cut off, barbed wires & iron nails were placed to contain them. They were called terrorists, traitors for opposing these bills. The govt owes them am apology

— Anusha Ravi Sood (@anusharavi10) November 19, 2021
Did Mr Modi apologise for the suffering he has caused?
For the farmers who died, were shot and injured?
For the police brutality ordered by his governments?
For the teargas, water cannons used on farmers?
For the public taxpayers' roads that his government dug up and destroyed? https://t.co/3DKiAhTwG1

— ranjona banerji 🇮🇳 (@ranjona) November 19, 2021
Don't be mistaken, this repeal of three farm laws is not for farmers but for elections in Uttar Pradesh where all @BJP4India internal surveys predicted massive loss in western UP where party won 70 percent of seats last time. BJP leaders were not being allowed entry

— Chetan Chauhan (@chetanecostani) November 19, 2021
I live in two Indias. In one India, bhakts call farmers secessionists, goondas 'not real farmers at all' & anti nationals out to harm Mr Modi.
In the second India the same Mr Modi apologises, praises farmers & withdraws the laws they were protesting.

— vir sanghvi (@virsanghvi) November 19, 2021
Now that they have withdrawn the 3 farm laws, next step is to withdraw cases slapped on farmers, free those still in prison and pay reparations to all the protesting farmers who've had to endure the vileness of this government in full.

— Disha Ravi 𓆉 (@disharavii) November 19, 2021
Modi takes back three farm laws.

After killing 800 farmers just in the last one year at the protest sites. pic.twitter.com/F7RPzh68zL

— Vibhu (@VibhuGroverr) November 19, 2021
Only if Punjab and UP elections were a year ago, the lives and anguish of several farmers would have been spared.

— Aishwarya S Iyer (@iyersaishwarya) November 19, 2021