On Thursday, a shocking video of a couple of school students risking their life to board a moving train gone viral in social media platforms with public condemning the duo. IPS Officer Varun Kumar who acts as Thiruvallur district's Superintendent of Police found the students and made them visit his office with their parents. He who sent them back after advising them, revealed that they both want to become IPS and DSP officers in future through his official twitter handle.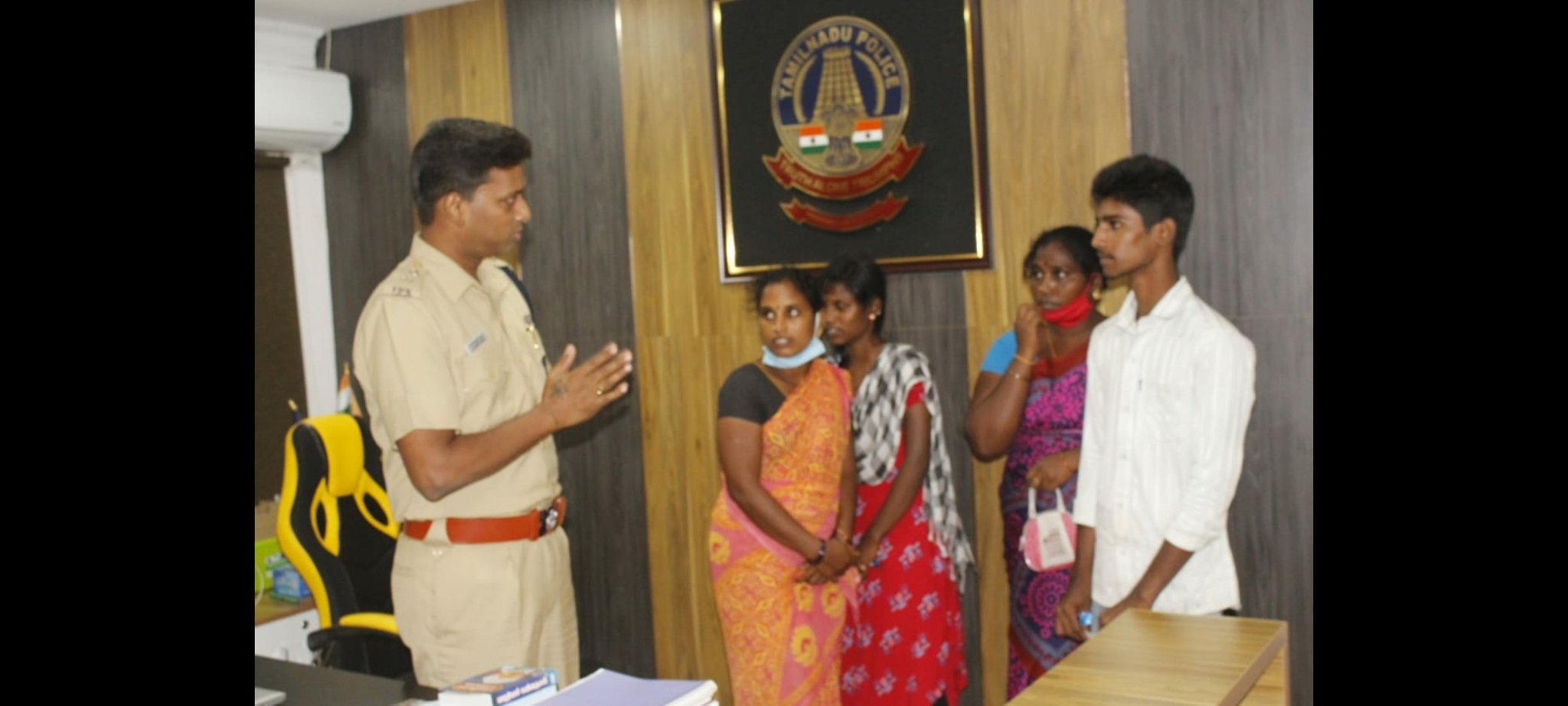 The viral video showed a boy and a girl dressed in school uniforms jumping on a train that is about to leave the station. When the train gets accelerated, the boy and girl could be seen holding the bar attached to the door and brushing their feet on the platform for thrill. It is also notable that they both jumped into the train only during the last moment when the train was about to leave the compartment.
The incident took place at the Kavarapettai railway station located in the suburbs of Chennai, has left public in a shocked state. Watch the horrific video below :
திருவள்ளூர் மாவட்டம் கும்மிடிப்பூண்டி அருகே மின்சார ரயிலில் ஆபத்தான நிலையில் பயணம் செய்யும் மாணவி மற்றும் மாணவன் pic.twitter.com/9JOzExOZyr

— DON Updates (@DonUpdates_in) November 25, 2021
Many in online platforms, asked the district administration to take appropriate action against the teens for involving in such thrill- seeking dangerous stunt. While the identity of the video's recorder has not been found, Korukkupet Police have launched an investigation regarding the matter. Check out some of the reactions that surfaced in Internet below :
@rpfsrly @RPF_INDIA @rpfsrmas @GMSRailway @RailMinIndia
Need strict action against those who involved in such a dangerous games, endangering themselves…. before it turned out to be a mishap. https://t.co/dmIDbb59aE

— மகிழ்வரசு🇮🇳ThePatriot (@Anandraaj04) November 25, 2021
காலேஜ் படிக்கும் போது ரயில் போக்குவரத்து தான்.தினமும் இப்படிதான் எல்லாம் முக்கியமான ஸ்டேனிலும் பண்ண ஒரு கெத்து என நினைச்சி பண்ணியது.ஒரு முறை எங்க கம்பாட்மெண்டில் எங்க காலேஜ் சீனியர் பண்ணும் போது, செருப்பு பிரண்டு கீழ விழுந்தார் https://t.co/D0jv1Bjn19

— தனிஒருவன்🖤❤️ (@Thannioruvan) November 25, 2021
திமிர் புடிச்சதுங்க… இதுங்களுக்கு தக்க தண்டனை கொடுக்கனும்…. https://t.co/sYL58hjJzA

— #திராவிடப்பெருஞ்சுவர் (@APJ_Dravidan) November 25, 2021
இதுங்களை தூக்கி உள்ள வைக்கனும் அப்ப தான் புத்தி வரும். https://t.co/gbVqE79oWj

— K!D (@appavikid) November 25, 2021
Knowing about the incident, Dr. Varun Kumar IPS, Thiruvallur district's Superintendent of Police invited the students and their parents in person and inquired them. He reportedly advised the students not to involve themselves in such dangerous stunts and asked them to concentrate on their studies. When Varun asked them about their ambitions the girl and boy said that they want to become IPS and DSP officers respectively.
"The girl wants to become IPS. The boy wants to become DSP" Varun kumar said while sharing about the news on his advise to the students.
The girl wants to become IPS. The boy wants to become DSP.

— Dr.Varun Kumar IPS (@VarunKumarIPSTN) November 25, 2021