Ajith Kumar's Nerkonda Paarvai has got a flying start at the Tamil Nadu box office. The good pre-release hype and lack of competition have helped the film to do a wonderful business in the first two days in the state.
The film was released in over 470 screens in Tamil Nadu on Thursday, 8 August. Although it was a normal working, Nerkonda Paarvai got a fantastic opening by raking in approximately Rs 14 crore on the first day.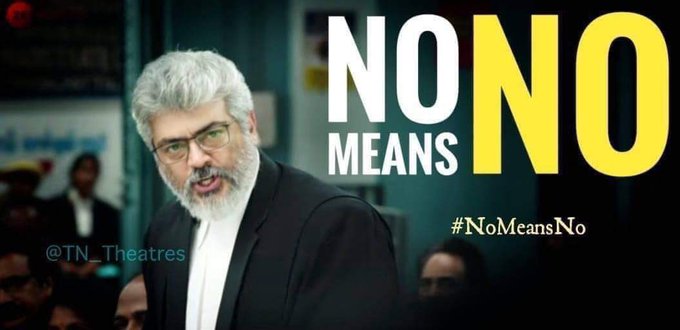 Following positive reviews, the Ajith-starrer registered good footfalls on its second day. The early estimation coming from the trade trackers indicate that the flick will collect around Rs 10 crore to take its total tally to Rs 24 crore in Tamil Nadu.
Actor Ajith Kumar was highly appreciated for choosing the script as it creates awareness among the youngsters of his society. His performance in the movie is also being praised all over the Internet. The actor who exhibited a top notch performance as lawyer expected to do more critically acclaimed films  in future.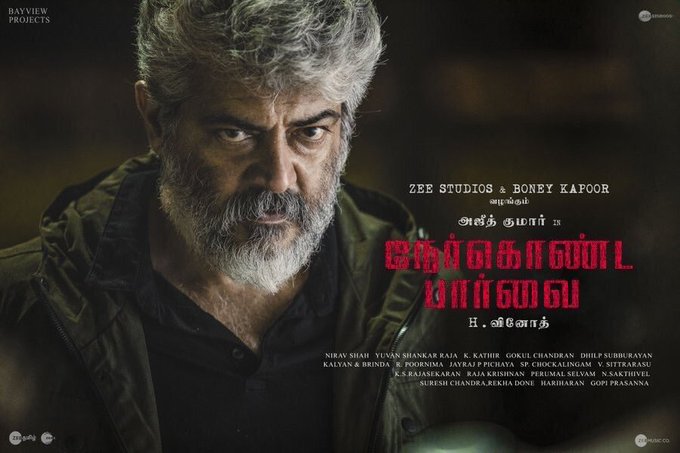 Now popular movie tracker Ramesh, after watching the movie said that the actor deserves a national award for his performance in the movie. Check out his tweet here :
#NerkondaPaarvai: #Thala #Ajith deserves National Award for Best Actor..

— Ramesh Bala (@rameshlaus) August 8, 2019
However this tweet from the tracker getting brutally trolled by some of the fans in social media who says that National Award would not be given to remade movies. They said that the films with original story are only considered for any category in National award. Check out some of their reactions here :
Remake Film ku National Award ah.
Why national Award,
Naama Straight ah Ascar Vaangigalam 😅

But, I'm very honest #Nerkondaparvai #Ajith Screen Presence 👌 https://t.co/CPVoEAHUjE

— Jeeva🌠 (@jeevaUdhayak) August 8, 2019
HEAD AAMAI #RameshBabu predicting National award for #Ajith clearly shows his knowledge about cinema…
National award for a remake film?😂😂😂#NerKondaPaarvai's original version #Pink dint fetch national award even for GOAT #AmithabhBachan ji…

— Iʀꜱʜᴀᴅ™ (@Irshad_8055) August 8, 2019
ithu ellam romba over
National award for remake film 😁
PS : I too like ajith https://t.co/AQvTmfB9dW

— MAnoj Kumar MAK (@iam_manoj_kumar) August 8, 2019
Inga ena award ah kudukranga😂😂!

I am sure Nerkonda Paarvai will be one of the best movies of Ajith in recent years!

Irunthalum National awardu lam konjam overa Ila🤣!

PS- There's no national awards for remakes😊#NKPFestivalBegins https://t.co/dwnVWW7mlW

— Gomesh🏏 (@theumpires_call) August 8, 2019
Not sure whether they give National Awards for remakes but SERIOUSLY Ajith deserves an Award for #NerkondaParvai … If not national award he MUST be appreciated with @filmfare 2019 .. @khushsundar @rameshlaus @realradikaa @SureshChandraa @BoneyKapoor … Thanks!

— ᴺᴷᴾ (@Krishinfo05) August 9, 2019
Yaaru Saamy Neenga… 🙂

Someone please advise this bro that NKP is a remake film and they wont give National Award nu !!!

Livingston – Vadaivelu comedy scene thaan kannu munnadi vanthu pohuthu 🙂

Rytu… atleast Oru Oscars parcel!!! pic.twitter.com/qdEJyl9KIM

— Christopher Kanagaraj (@Chrissuccess) August 8, 2019
Another set of fans are stating that the actors who acted in Remake films are eligible for National award. However, the movie is indeed reaching larger audience day by day which will help them to change their perspective on what a quality movie is.