Madras High court came down hard on the Chennai corporation over the inundation caused in the city due to the heavy rains. The court criticized the body saying that citizens "cry for water" in the first half of the year and die due to water in the second part. The high court also warned that if the water logging situation was not brought under control, and the troubles faced by the residents doesn't decrease by the weekend, it would take up suo motu proceedings.
The uninterrupted rain gushed out of reservoirs and while several roads and low-lying areas remained inundated in Chennai, after heavy rains lashed the city and parts of Tamil nadu since Saturday. KKSSR Ramachandran, Tamil nadu revenue and disaster management minister said that five people have lost their lives due to rain. He also told the media that more damages are expected if the rain intensifies.
Authorities reported that 1,107 people have been sheltered in in 48 relief camps in Chennai after Tamil nadu recorded 43% of rainfall above normal. 24.12 cm is considered as normal which is 241.2 mm. The state has recorded 34.61 cm of rain which is 346.1 mm. 310 people are housed in 10 shelters in the northern districts of Kancheepuram, Tiruvannamalai, Chengalpet and Tiruvallur with food and all other basic amenities.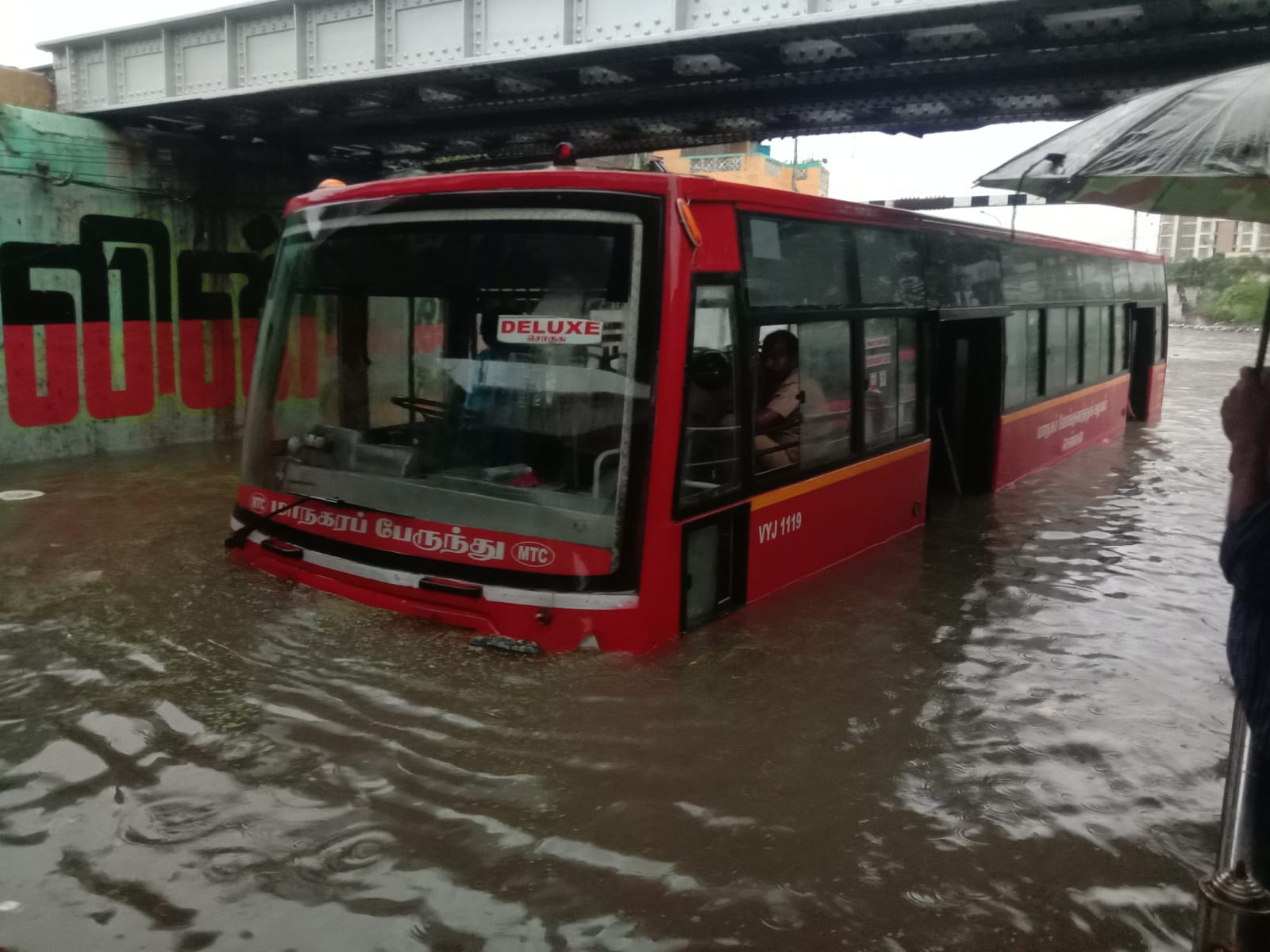 Chief Justice Sanib Bannerjee and Justice P D Aadikesavalu wondered as to what the authorities were doing for the past 5 years after 2015 floods. While hearing a petition which sought direction to Tamil nadu government to maintain adequate width of public roads in the state, the court made the observations.
#BREAKING | தத்தளிக்கும் சென்னை – மாநகராட்சிக்கு ஐகோர்ட் கேள்வி

இன்றைய லைவ் அப்டேட்ஸ்>https://t.co/v6tg3Hylog#madrashighcourt | #ChennaiCorporation | #Rain | #ChennaiRains | @chennaicorp pic.twitter.com/gxhhiUbOnZ

— PuthiyathalaimuraiTV (@PTTVOnlineNews) November 9, 2021
"Half of the year, we are longing for water and for the rest of year we are dying in water in Chennai" the court said in its oral observations. "It may be out of the context to record that the ongoing rains and the floods in and around Chennai and elsewhere in the state should be a lesson for the government officials to take immediate action against any person attempting to encroach into any water body or the path meant for flowing water during the rainy reason." the court said.
Cadres of DMK and ADMK government blaming each other as soon as the statement from Madras high court emerged. While reactions surfaced questioning the previous government of AIADMK, few also questioned why Kolathur area, MLA of which is current CM MK Stalin is filled with water. People who are suffering also expressed their disappointment over how careless the authorities of the state are. Check out some of the reactions below :
திமுக அரசு நாங்கள் அரசியல் பண்ண விரும்பவில்லை என ஒதுங்க கூடாது, இந்த 10 வருஷம் என்ன வேலை நடந்தது, எவ்வளவு ஒதுக்கப்பட்டது, யார் அதிகாரி, மந்திரி, திட்ட மதிப்பீடு செய்தது யார், மக்கள் முன் சொன்னால் தான் நம்பிக்கை வரும், திமுக ஆட்சியில் எல்&டி கட்டிய பாலத்தில் ஊழல் என A1 சொன்னது.

— kumaran v (@toykumaran_08) November 9, 2021
2011ல் இருந்து கொளத்தூரில் எம்எல்ஏவாக இருந்தவர் என்ன செய்தார் கொளத்தூர் தொகுதி தண்ணீரில் மூழ்கி இருக்கிறது

— MA.Kumar PMK (@MAKumarPMK2) November 9, 2021
முந்தைய ஆட்சியாஏர்களிடம் கேட்க வேண்டிய கேள்வி. வெற்றி நடை போடும் தமிழகம்னு ஊரெல்லாம் போஸ்டர் ஒட்டின கொள்ளையர்களிடம் கேட்க வேண்டிய கேள்வி.

— Zen Selvaa (@Zenselvaa) November 9, 2021
இது ஏதோ கடந்த 10 ஆண்டுகளில் மட்டும் நடந்தது போல கட்டமைக்கப்படுகிறது. 1970களில் நீர்நிலைகள் ஆக்கிரமிக்கப்பட்டு அரசு அலுவலகங்கள், வள்ளுவர் கோட்டம் என கட்ட ஆரம்பித்ததிலிருந்து இதே நிலை. தவிர ஆண்ட கட்சிகள் நீர்நிலை ஆக்கிரமிப்பாளர்களுக்கு பட்டா வழங்கிய நிகழ்வுகளும் உண்டு.

— venkat (@Venkat57026245) November 9, 2021
2015ல் முதல் மழையிலேயே வெள்ளம் வரவில்லை. செப்டம்பர் முதல் மழை பெய்தது.டிசம்பரில் ஒரே நாளில் ~500mm மழை பெய்தது. ஆனால் இந்த மாதம் 6ம் தேதி~200mm மழையிலேயே வெள்ளக்காடாகியது. முன்னெச்சரிக்கையாக பாதாள சாக்கடைகளை தூர் வாறியிருந்தாலே இந்நிலைமை வந்திருக்காது

— venkat (@Venkat57026245) November 9, 2021
அனைத்து உயர் அதிகாரிகளும் லஞ்சம் லஞ்சம் லஞ்சம்.
இதுதான் நீங்கள் கேட்ட கேள்விக்கு சரியான பதில்.
அடுத்து மழை வந்தாலும் சென்னைக்கு இதே நிலைமை தான். இந்த நிலைமை எப்போதும் மாறாது.!!

— ThangaPandian (@pandianfashion) November 9, 2021